Copper Summit, Inc. offers FREE SHIPPING on most orders
---
Custom Orders Welcome
---
For a free quote, questions, or to place an order, call us at 918-230-8725 or e-mail donna@coppersummitinc.com.
Copper Roof Vents – Copper Dormers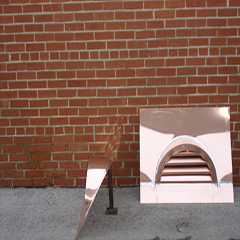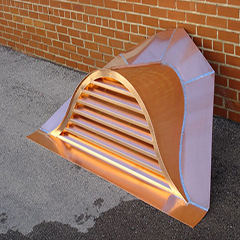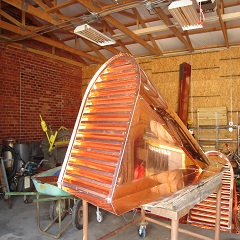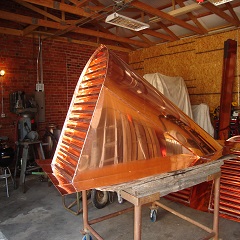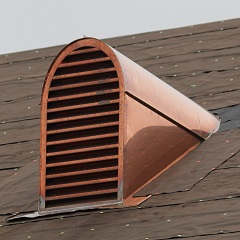 *Prices shown are for roof vents (dormers) made for a roof pitch that is between 12/12 & 18/12. For a roof pitch less than 12/12 add 5% of cost for every inch difference. Example: 8/12 add 20% to cost. 
Copper Dormers Overview:
Our top selling dormer roof vent, and overall best-selling product, is our Copper Half Round Dormer Roof Vent. This beautiful design has provided style and function to our customers over the years. We currently offer 7 standard styles of dormer roof vents to fit any architectural design needs, but welcome any custom designs that might fit your project needs. While copper is a beautiful metal, in and of itself, adding our design and the functionality of copper dormer roof vents makes for a desirable product to ventilate any structure. Copper dormer roof vents, made from our 16 oz. copper, do not need to be cleaned or painted as they develop a natural patina, over time. Dependent on weather climates, the natural copper color will turn a rich, rustic brown (some shades of red, orange, and purple often visible), then progress to a deep, chocolate brown, and finally a beautiful, grey-green patina. An optional add on, to the copper dormer roof vents, is the patina finish (aged green copper look), as many customers are interested in the final copper aging appearance.  Please provide the roof pitch, of your structure, when requesting a quote or placing an order for our dormer roof vents.  Instructions for measuring roof pitch can be found on our FAQ page.
Copper Dormers Details:
Our copper dormers, also known as copper roof vents, are made with 16 oz copper with a steel mesh screen to provide a barrier for debris and wildlife.
Each of our copper dormers are handcrafted to fit your specifications.
Copper will last a lifetime and does not rot like wood, rust like steel, or crack like clay.
Copper dormers provide an elegant finishing touch to any structure.
We also offer splash pans, behind the dormer, upon request.
Patina finish available for an additional 10% (aged green copper look).
Copper dormers not only add beauty to you architecture, but dormers are also functional and can provide ventilation for certain structures.
Ventilation helps keep attics cool during the warmer months.
Ventilation reduces moisture to help keep attics dry during the colder months as well as helping prevent ice dams.
Ventilation adds comfort, helps protect against damage materials and structure, and helps reduce energy consumption during all four seasons of the year.
Copper Dormer Free Air Space Information:
| | | | | | |
| --- | --- | --- | --- | --- | --- |
| | | Half Round Dormer Roof Vents Free Air Space: | | | |
| | | Tombstone Dormer Roof Vents Free Air Space: | | | |
| | | Triangle Dormer Roof Vents Free Air Space: | | | |
| | | Arch Top Dormer Roof Vents Free Air Space: | | | |
| | | Mantle Clock Dormer Roof Vents Free Air Space: | | | |
| | | Eyebrow Dormer Roof Vents Free Air Space: | | | |
| | | Rectangular Dormer Roof Vents Free Air Space: | | | |
Copper Dormer Testimonial:
"I wanted you to know that the roof vents arrived in fine condition and fit perfectly. The roof is finished and the stucco is underway. I will send you a photo when completed. Thanks for your prompt service and great quality product." 
~ Debi Does Design